Until quite recently I had not done any serious walking in Wales but when I joined a walking forum it became obvious how popular it was. My view on Wales, and probably what put me off, was the constant rain forecasts over the mountains and most of my walking therefore took place in the Lakes. How surprised I was when I went into Wales on my first 3 walks and had sunshine !!!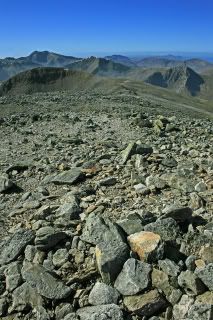 The thing I like the most about Snowdonia in particular is the rocky nature of the mountains which gives easy access to lots of scrambling. This not only adds a thrill to the ascent, but gets a lot of the height out of the way quickly without the usual long slog to the top.
I enjoy big, tall walks anywhere as there is a personal challenge in getting to the summit of tall peaks, and the sense of achievement is so much more than a lower level walk however different scenery make all walks individually enjoyable. With this in mind, my walks are based around the Welsh 3000 ft peaks and fortunately they can be grouped together into day walks done over three or four trips. Some of these I have already done at the time of writing, and some trips are on my wish list for the coming year, but all will be revisited due to the sheer enjoyment I had on the walks.